Hi Eduardo,
Thanks for sending me the Zócalo. It looks very different from the few times I walked there, under blue skies and the central square almost empty. And I am glad you had some snow with Christmas as well! It looks like the perfect combination: snow and no need to wear thick heavy clothes. That richly sculpted entrance of the Cathedral looked somewhat familiar, but thanks for telling me it is the Zócalo: otherwise I wouldn't have known. It makes me aware of the fact that just like my tourist photos are only snapshots in time, also these photos are. Here is a photo I took from the plane just before landing in Mexico City International Airport, filled with anticipation. Look at all those patches of bright vivid colour in a field of blurry grey.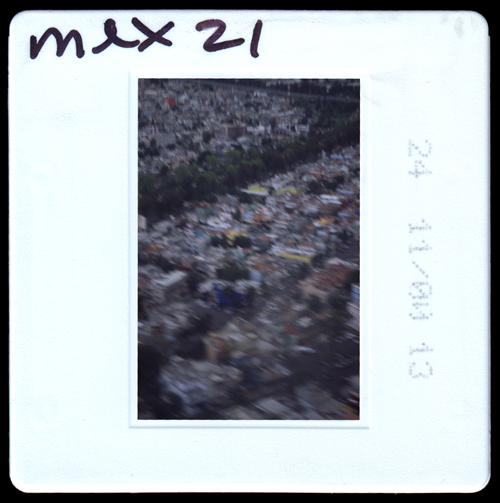 You step out of that plane and while your mind is still halfway the place you just came from, your body walks strange and new soil. I also can experience it when coming back in my home town, especially after been away for some months or even a few weeks: the city looks very familiar, but at the same time new again. All of a sudden you wonder if that shop on that corner has always been there or if it changed owner in your absence. The streets and the people look different. Jumps in time. Your mind still has to catch up with your body.
Incredible how far we go in trying to change our natural surroundings and change it the way we want it to be. Here when winter is getting near, the restaurants and cafés warm their terraces with these gas fuelled 'parasols' that radiate warmth over the people sitting under them. At those chilly temperatures you used to find yourself a table inside. A friend of ours in Barcelona keeps his terrace cool in the burning sun of summer by using machines that not only fan but also keep spraying a fine mist of water over the customers. Wonderful we can enjoy that all now, but sometimes it also looks like an incredible waste of energy to me. But sure yeah: I also make use of these innovations often enough. Now I can enjoy sugar peas and tomatoes whenever I want, swim in mid winter and learn to ice skate from October to March! And fly wherever I want to!
I like the way you make silver look like pliable fabric. Especially the bracelet looks like finely woven pliable textile, beautiful, and also a handsome photo by the way. The necklace seems to be made with thicker 'threads' and looks more rigid, also because of the smaller triangular areas. Funny you can also wear it as a crown. You don't use fabric in your jewellery, but interestingly, you use a textile technique to treat the silver with. In the weaving you can make it look like textile, but using another material than a woollen or cotton thread, you're able to mould and shape at the same time. Widening the structure, narrowing it, by adding or lessening 'strands'. Or gradually changing the mesh. Your textile works won't loose their form when dropped. I can imagine this will lead to many more things to discover: you are using the best of two worlds, sort of speak. You can build complete 3D organic structures like this. To me, these areas where two (or more) fields in design/art/craft overlap are the most promising and interesting. These are the areas where real exploration can be done, experiments with surprising outcomes. Yes, I know exactly what you mean: the unexpected paths that appear! That obsession, that struggle and then the magical blissful moments of solution, that make it all fit together. And consequently all those doors to new territory that open. That's what we are doing this for, right?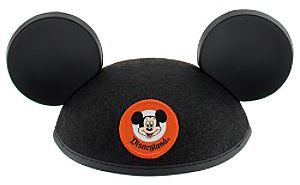 I intend to make a ceremonial necklace that may have been dug up somewhere in Mexico at first impression, or made by a present Mexican potter/jeweller. Now I all of a sudden have to think of that powerful project Otto Künzli (Switzerland) did a long time ago (early 90's?) in which he commented –if I am correct- on the United States culture that seemed to lack real history. Part of that project, he made all kinds of pendants that were a series of artefacts (with pre-Hispanic names) from different periods in time and different excavations in the American continent and therefore different in style: forerunners of the present Micky Mouse symbol. What a masterly and smashing project I still find that. Like many of his ideas. I found a small image of it on the internet: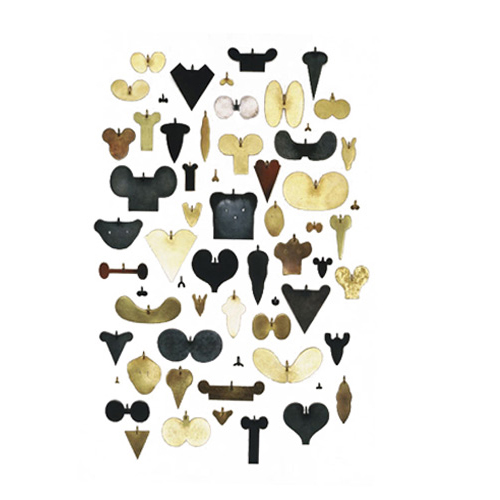 But to continue with necklace to be: I used my computer in making the first sketches of a necklace out of Mexican symbol numero uno: skulls-skulls-skulls. Well to the world outside Mexico that is. The strange thing is, that when you see heaps of real skulls the association with Mexico is not there. Then they are considered nation-less, something universal. But applied in arts and crafts as a motif all of a sudden the skulls seem to be Mexican. So no: of course my skulls won't be Mexican (alone the fact I made them here), but as a motif they will look like they are. Here is a screenshot of my Illustrator files.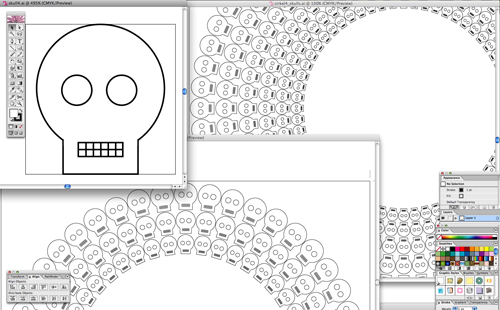 Enjoy the weekend Eduardo. Will stop now, but we'll talk soon again. Looking forward.