Back again,
We had some snow again last night, so I woke up in a black and white world. Because of our moderate maritime climate we don't have snow that often. This is the view from our windows at the back. No forest here, but the centre of town. This is what the gardens look like enclosed by the blocks of houses.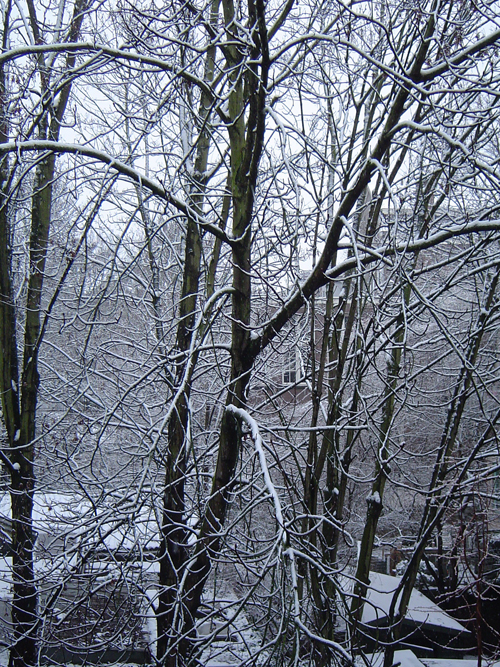 Regarding my posting of yesterday and the photos of your work in mind:
Wherever I come I am immensely attracted to ceramics and basketry. Like a magnet I am drawn towards places that show or sell these products. (Almost?) any country seems to have a history in ceramics and in basketry, using their own clays and using their own fibres (palm leaf nerves, willow twigs, bamboo strips, reet stems). And the famous Dutch delftware is in fact a local imitation of Chinese porcelain. Because the Europeans didn't know the techniques to make porcelain and because porcelain clay isn't found in Holland they started to make earthenware look-alikes in blue and white in the 17th century.
In particular I am enchanted by that South-East Asian way of weaving, which is called hexagonal weave. Here are two photos of it: a shopping bag I bought in Cambodia and a vase woven in the same technique (but in a denser way) out of paper strips made by an American artist who specializes in contemporary basketry and fiber art: Jackie Abrams. She also makes more organic forms. Since the first half of the 90's I have been exploring paths of ceramics, but maybe I'll do the same with basketry some day. Your weaving made me also think of weaving in the field of basketry.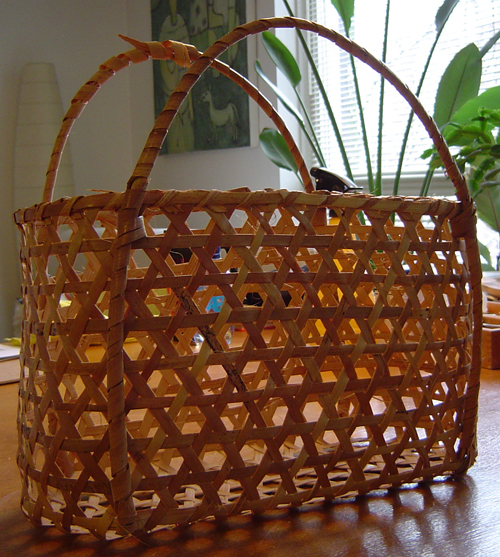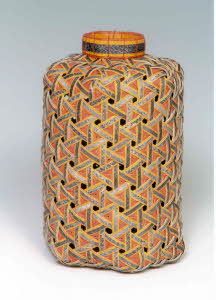 There used to be a certain disdain from the art world towards the world of crafts in the 90's. I remember the first reactions of art people when I told I was experimenting with ceramics in jewellery: the idea of glossy glazes and the prejudice it would look like folk craft or something of the sort. In the 21st century that seems to have changed. Now there is a genuine interest in crafts and their techniques; and now arts and crafts are mentioned in one breath, also in titles of prestigious international exhibitions. I know from people working in the world of ceramic art and design that they really had to fight, and still are, to have their work regarded as art instead as just '(folk) craft', 'pottery'. In a similar way we are doing that with our jewellery. When in academy I heard some students of the painters department -the real artists of course- talk about the jewellery department as 'the earring club'

!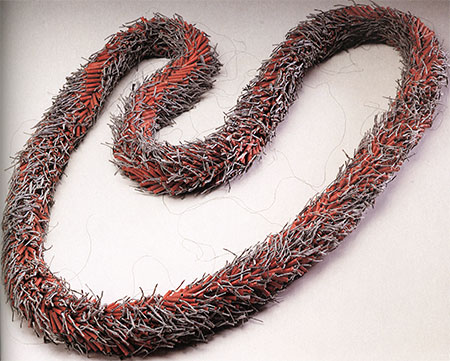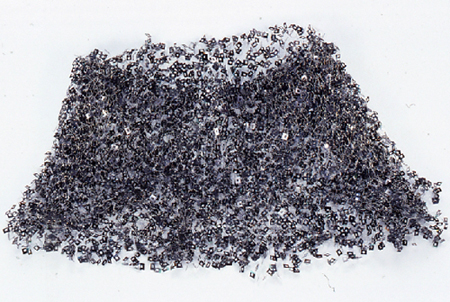 Also your 'textile' technique of working made me think of a Swiss woman that also uses an in origin textile technique to make her works with. She doesn't weave though, but she crochets with the silver wire and she includes all kinds of ordinary non-precious materials while crocheting to build impressive and beautiful collars and necklaces: pill strips, watch wheels, fire crackers. You probably know her work: Verena Sieber-Fuchs, she is well-known.
Will start preparing some food now. Till soon. Peter.