Se ve muy atractiva la espiral de cráneos para imaginar como y  hacia donde se van cuando la forma sea muy pequeña y siga el viaje. La relación de la fracción con las formas concretas hace una buena unidad.
   Esta es mi pieza final, quedo cerrada  por un lado con un resorte de plata que protege los pares de hilos cada uno atrapado con un pequeño tubo de plata. En el otro extremo ,como  la  trama exterior tiene la versatilidad de plegarse sobre si misma y también reducirse mucho .Regresándola primero y nuevamente continuando  hacia adelante, atrape  el extremo final reducido, con  esta semiesfera perforada.
    Un extremo entra en el otro para cerrarse ya que la flexibilidad del tejido lo permite.
   También me pareció divertido imaginar el poner otras redes anteriores que no necesariamente son conocidas de otro momento primero. Otra posibilidad es que las redes que van quedando en el centro sean desechadas pero no siempre es así además de que no existiría la comparación entre ambas.  Creo que lo peculiar es que ni el centro ni el exterior están conocidos aun y el objeto o espacio es solo las redes.
    En realidad creo que es necesario seguir explorando esta idea y hacer como tu, diferentes opciones, series, depuraciones. Porque surgen una variedad de caminos.
   Se que me extendí demasiado al responderte este ultimo correo Peter. También  para mí ha sido  un intercambio muy agradable, motivador y sensible de tu parte, que ha pasado por diferentes sabores enriqueciendo mucho mi horizonte, Muchas Gracias.
 Me parece muy bien seguir en contacto. Hasta pronto
 It Looks very attractive the spiral of skulls to imagine where and how they go when the form will be so little and continue the travel. The relation of the fraction with the concrete forms makes a good unite.
  This is my final work.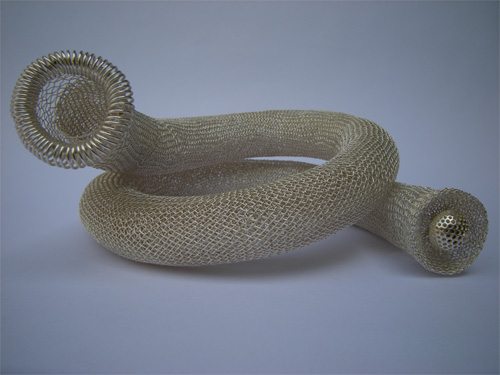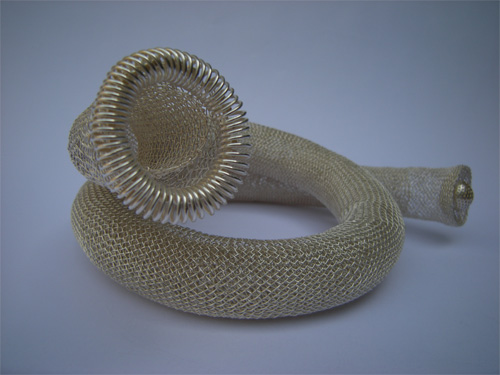 I finish off in one side with a silver spiral wire that protects the pair of threads each one trapped with a small silver tube beside.  In the other side because of the exterior woof ,that has the versatility of bend toward inside him and also contract to much, going back first and then to the front, I trap the final contract edge with this half pierce sphere.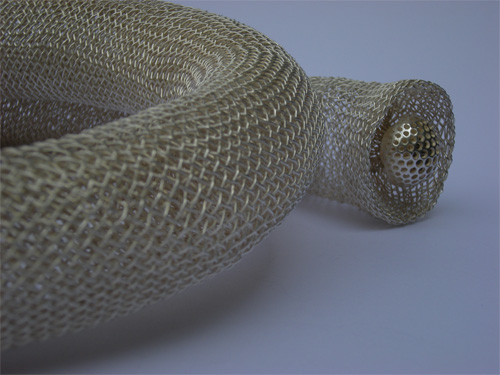 One edge gets inside the other to close the tube and is possible because of the flexibility of the weave.
I think also was enjoyable imagine to put inside or outside  weaved tubes  that not necessarily are known of a other period time, future or past .
Also I think that another possibility was to live just the last woof, but is necessary to have the first one to compare both as a different process
  The peculiarity in this case is that the very center of the object, or the exterior of it, is not known and the object is just weaves
 Really I think is necessary to continue exploring this idea and make as you do ,different options, series, purify, because it  emerge a varieties of possibilities .
 I extend too much in time, on answering you this last post Peter
For me has been also a very sensible, motivating and pleasant share of you, that has past through different flavors, making more rich my horizon, thanks you.  
I think is very good to continue in touch.  Till soon.