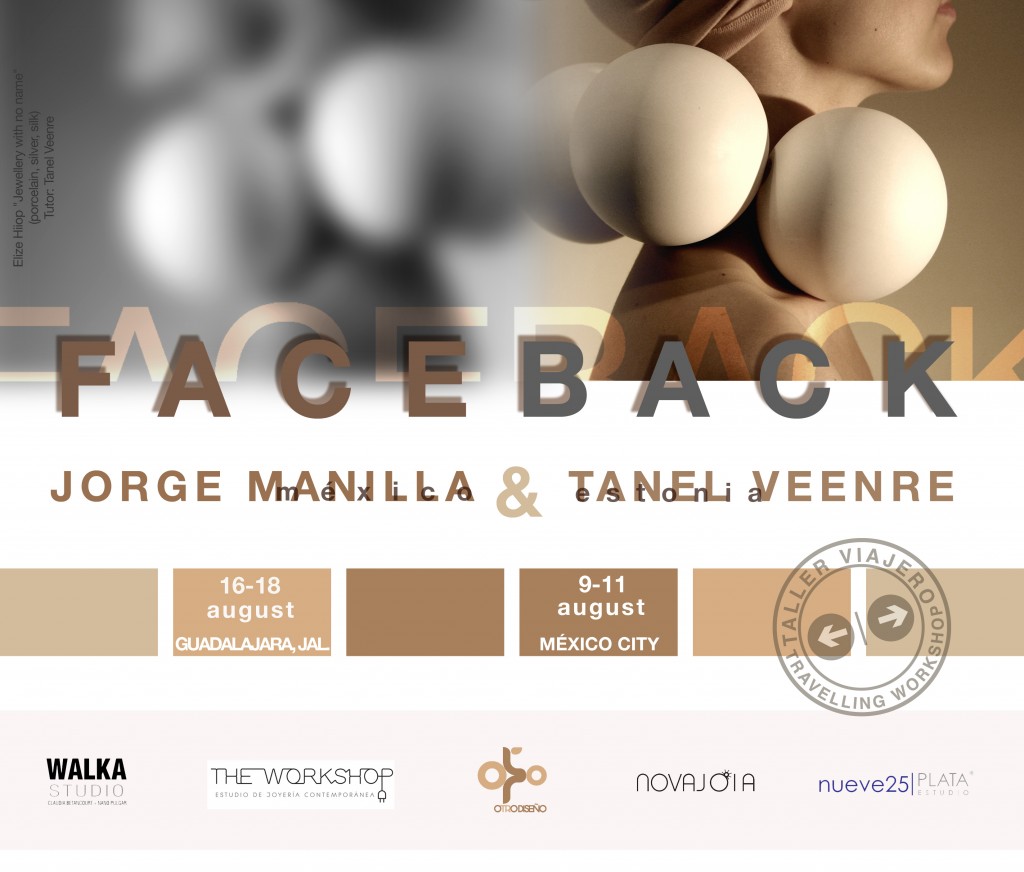 FaceBack consists of an intensive three-day workshop dictated by two teachers, Mexican visual and jewellery artist Jorge Manilla and Estonian fashion and jewellery designer Tanel Veenre and is aimed at jewellery, fashion or industrial designers, visual artists, photographers and architects who either work professionally or are in the last year of their studies and who desire to work on conceptual assignments using jewellery as a media.
The workshop will be based on the study, conceptualization and execution of a jewel which considers the facade and backside as equally relevant players on the narrative of the piece. The object will be the result of careful analysis and discussion on topics such as Public and Private, Show-off and Hide, Tradition and Invention. FaceBack seeks to provide the participants with a more liberal approach to jewellery making and with an understanding of its relation with other creative disciplines. The workshop focuses strongly on the development of conceptual thinking and the encouragement of experimentation, combining this with the techinical abilities of the participants.
At the end of the workshop the participants will have created a piece of conceptual jewellery. They will have gained a wider understanding of conceptual contemporary jewellery and sharpened their ability  to evaluate and critique their own work.
FaceBack is the third workshop in the first series of nine of the program Travelling Workshop, an initiative of Otro Diseño, which offers jewelers, designers and visual artists who live in Latin America the opportunity to address the global notion of contemporary jewellery by the exploration of conceptual and critical thinking and the application of materials, techniques and technology that respond to that line of thought.
Travelling Workshop acts as an open workshop made accessible to comers from various disciplines, where contemporary jewellery is studied and created collaboratively. The program aims to provide jewelers, artists and designers in this cultural region with the tools to nurture their own creative process, define their individual position as an artist and further develop the quality of their work. At the same time, the program looks to to strengthen the respective national scenes of the participants and to encourage them to become active participants in the international arena of contemporary jewellery. Travelling Workshop is intended to foster creativity and encourage experimentation in an atmosphere of cultural exchange, conversation, engagement, and freedom of expression.
When: from Friday 9th to Sunday 11th August, 2013
Where: Nueve25 Plata Studio, Querétaro No 97, Col. Roma, Mexico City
Registration:  http://facebackworkshop.eventbrite.com/