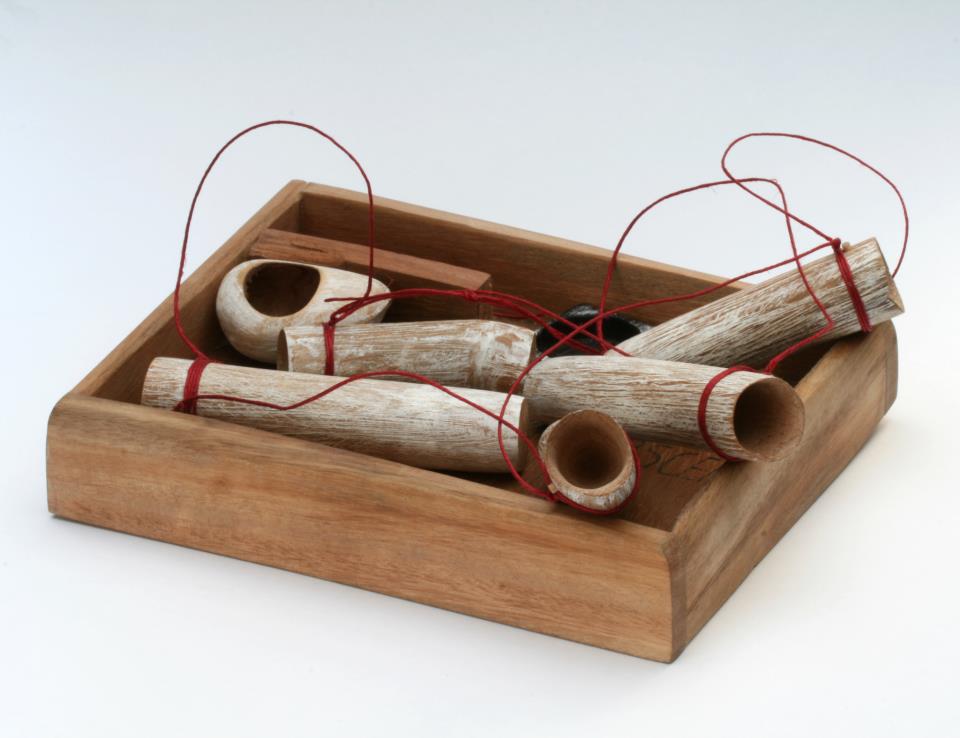 From September 5th to October 7th, the work of Buenos Aires based jeweller Jorge Castañón will be on display at the Gallery Velvet da Vinci in San Francisco, California.
Castañón is a former marine biologist who studied sculpture and carpentry and trained for almost 10 years in various traditional silver and goldsmithing workshops. By developing impressive technical skills and combining them with a profound understanding of local materials and autochthonous crafting techniques, as well as a powerful and sophisticated aesthetic sensibility, Castañón produces highly expressive pieces that breake the boundaries of jewelry to take on sculptural characteristics.  Inspired mostly by natural materials and shapes and concerned with environmental matters, Castañón searched for rare types of wood, preferably discarded or abandoned, weathered by use or nature. Often preserving vestiges of its past life—paint flecks, a rusty nail, or discoloration caused by fungi—the wood becomes a protagonist in Castañon's pieces, while rich metals are humbled and used in service to the wood to provide structural support or add color. The work express a marked Argentinean identity through a universal language.
While working on pieces inspired by "Alice in Wonderland," Castañón explored the emotional impact of endless holes, and hidden places away from the light. He discuses this experience in the 'realm of doubt' as the impetuous for his first wood pieces:
"I wanted to talk about abundance, but suddenly knew that I was actually talking about what is not there, the void, and I found myself again making bowls, hollows filled with nothing or almost nothing. Since then, I kept on looking for hidden places, old hiding places, crevices, containers of many things and of nothing at the same time, inhabited by silent presences. Now I invent them, construct them, give them voice. I rescue objects and materials that were on the way to oblivion and return to communicate a minimal story.
Jorge Castañón founded his well-known school "La Nave," 20 years ago and was featured in the Munich Schmuck 2011 Exhibition.