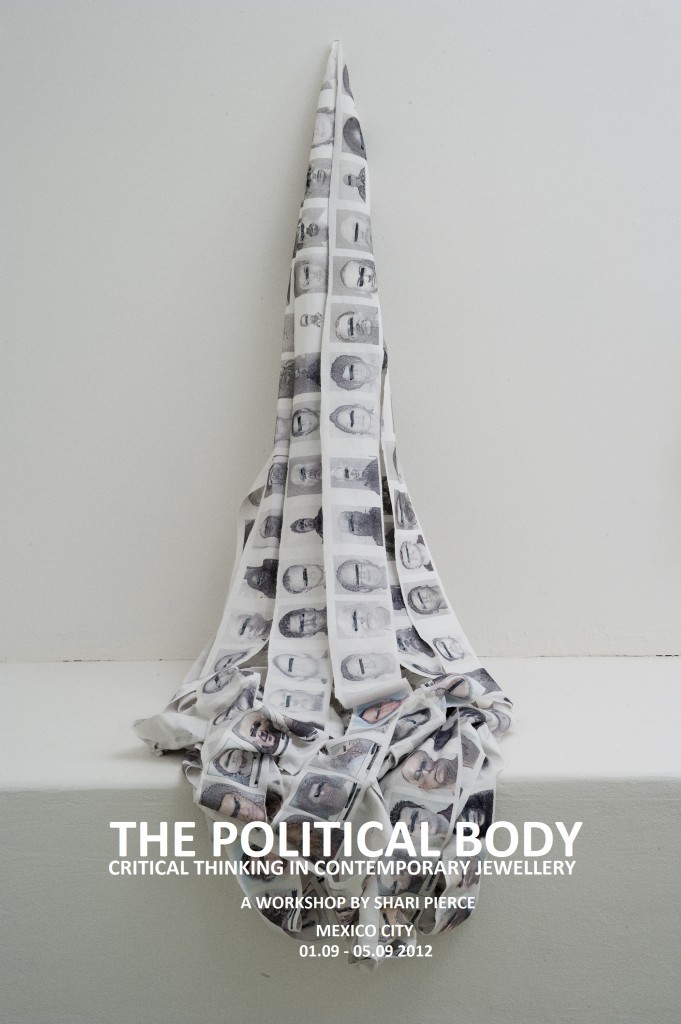 Workshop The Political Body
Critical Thinking in Contemporary JewelleryA workshop by Shari Pierce
01. 09. 2012 – 05.09.2011
Mexico City
The Otro Diseño Foundation and Taller Serra invite to the workshop The Political Body, by visual and jewelley artist Shari Pierce. This workshop is the first of a series that Otro Diseño will carry out in Mexico in a two year period. The program, which will include periodical lectures and discussion panels, aims to offer Mexican jewellery makers, designers and visual artists the opportunity to explore a global notion of contemporary jewellery by addressing complex conceptual matters as well as technical and material innovation within the context of their own cultural background. The program seeks to offer Mexican jewellery artists the tools to strengthen scene of contemporary jewellery in their own country as well as to actively engage with the international arena.The Political Body workshop seeks to promote political, social and emotionally engaged creative expression within the art form of contemporary jewelry. This creative expression empowers the individual and the group, by creating a space in which you can engage in a dialogue with one another about the issues in which you have a personal stake in your society.

By exploring the possibility of communicating a message through the political body, students will gain a better understanding of contemporary jewelry and its potential for social, political and emotional artistic expression.

For additional information, please go to:

http://www.eventbrite.com/event/3846669492

—–

Shari Pierce was born in New Your and currently lives in Munich, Germany. She holds a degree in Fine Arts by the East Carolina University and earned a MFA at the Academy of Fine Arts in Munich.

She has been a guest professor at the Konstfack University College of Art, Crafts and Design in Stockholm, the Geneva University of Art and Design in Switzerland and the Rhode Island School of Art and Design, in the USA.