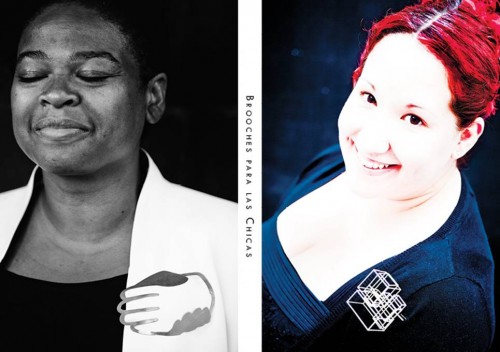 Sieraad Art Fair, Booth 65
Westergasfabriek Amsterdam
November 3rd to 6th 2011
Broches para las Chicas is the third edition of an academic project by the Royal Academy of Fine Arts in Antwerp. Students of the 2nd and 3rd bachelor courses at the jewellery department were asked to design and produce ornaments for a specific person. Past editions of the project have seen Walter Van Beirendock, Marnic Smessaert, Anita Evenepoel and Marjan Unger portraying rings and necklaces produced by the Academy's students.
This year the academy invited Surinam-born designer and jewellery artist Chequita Nahar and myself to commission the students to create a type of ornament that we both have found alluring and, at the same time, foreign to our habitual choice of jewellery: brooches.  Brooches are one the oldest type of jewellery and they are among the most frequently produced ornaments by contemporary jewelers:  their possibilities are almost endless and its prominent area of display makes the brooch a remarkable media for communication.
The students were challenged to produce brooches that would help us commissioners to become acquainted with the use of these ornaments and that could establish a relation with the geocultural area we come from, Latin America, and the place where we live now: Europe.
Designing for another person starts at the Academy as an exercise that students will have to master through their entire careers as professional jewellery makers. Their ideas, experience and talents are faced with the tastes, dislikes and demands of someone they come to know through a few working sessions. This results in a great opportunity for the students to acquire real-life experience and for the audience to be treated with the promise of surprising young talents.