I have a tendency to make connections with other disciplines when I am looking at an Art-Jewelry piece. The points of connections with drawing and jewellery are particularly interesting for me. I've been researching this dialogue for a long time .
When I meet an artist that is somehow working on the same subject, at least in my point of view, I find it stimulating. I see other solutions for the inner questions I ask myself all the time: the crossing over the two dimensions world into the three-dimensional one.
Many of us are familiar with Doris Betz pieces, where she reveals her concern with lines , transforming the graphite of a pencil into silver lines looking for spontainity.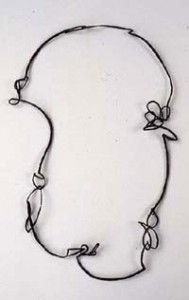 Doris Betz
There is also the coloful work of Liana Pattihis recently published at Dreaming Jewelry from Monsa Publishers showing not only her peculiar enamel procedings, but at least for me, a profusion of lines that are vigorous in its intense red tones.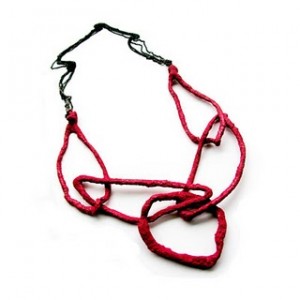 Liana Patthis
Last week I saw some of the works of Hena Lee that can be seen as working somehow in this direction.
With a background in architecture,  the brazilian artist  has participated in NOVAJOIA's workshops with  Ela Bauer (october 2009) and Karin Seufert & Tore Svensson (november 2009). Since then she started to develop a jewellery work that, to me, dialogues with drawing.
The change started from questioning  herself about her own identity. The chosen materials revealed her korean inheritance: sesame, pepper powder and chopsticks.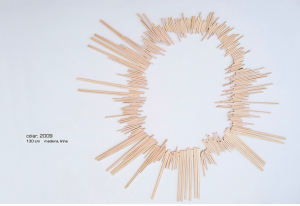 The chopsticks were initialy used in its natural colors. Once painted in black ,they started to bring a very strong graphic quality to the work.
The developments of the most recent pieces are showing an increase of its graphic qualities. The thick and hard line of the choptsticks are giving space to the flexible and light cotton thread. The line that was holding the pieces together now is also working as a plastic element.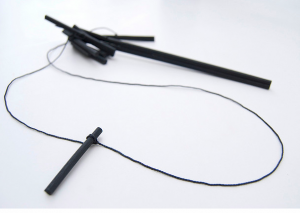 When there is color, it is punctual.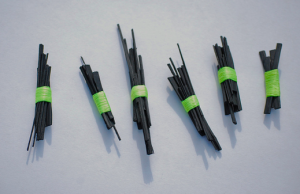 The domain of the black, as FRUTIGER explains, works removing the light, emphasizing the space around, activating it. We see in these pieces drawings that go further in the three-dimensional space.
Hena Lee is one of the brazilian artists in Think Again, opening next october 12th (MAD/NY).
about : FRUTIGER, Adrian. Sinais & Símbolos. São Paulo: Ed. Martins Fontes, 2001.