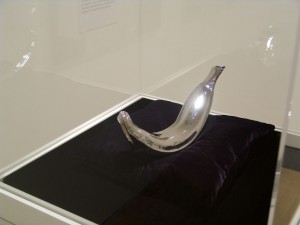 Hi Lenor,
Thanks for the reply, I'm enjoying reading about your work and ideas. My interest in jewelry is a good question… While I have a tremendous appreciation for jewelry makers and am amazed by the work of the jewelry makers/artists in this group, it's an area I have modestly explored. I'm generally enamored with the making, crafting and conceptualization of objects. However in my own work, jewelry has been referenced mostly as a commodity, appropriated and manipulated to engage questions of materialism and decadence.
A lot of my work explores consumerism and the influence of popular and consumer culture in our lives. In the Pure Plantainum works for example, the empowerment of the symbol is problematized by the dichotomy of the exterior versus interior materials, a platinum jewel on the surface, a deteriorating plátano within. It's a layered symbol, embedded with various contradictions that at once celebrate culture while questioning our material desires.
Having said this, I'm interested in how this gray area project might open new ideas. I enjoy seeing peoples' conceptual approaches to making jewelry, particularly when using unconventional or unexpected materials. I'm still thinking about how to engage our project here and intrigued by the possibilities of collaboration over such distance… where to begin?
PS – is there anyway to get an email notification when someone responds or comments on the blog? I'm sure i'd respond better if I could figure this out. let me know if you have any suggestions.. thanks!
Miguel