Dear Chequita, I am sorry you had to wait now for me.
After the intense period of the work with the triennial I got an eye infection. Less computer was necessary, luckily it's almost over, back in track eventually.
First, can you please post the pictures of the small talismans you told me.
I read your post about little presents your were thinking to make. Beautiful thought. You had Christmas in your mind I suppose? For me Christmas is a strange time, we have always celebrated it in our family, even at the time it was forbidden(when we belonged to the happy family of USSR )- we celebrated it behind heavy curtains. Very long time it was of course the favorite event of the year, just next to my birthday when one could expect number of presents. Well soon the presents turned to more practical then fun things(as a teenager I remember of getting 10 pair set of ugly but warm underpants from granny and two granny like nightgowns from my mum, uh).
Even now we mostly give within my family only practical things.  Every year I think of making something special, but the time passes before I ever have a chance.
When my grandfather died this Spring I was desperately trying to remember did I ever received something from him what I could treasure except all the memories? Then I remembered one story. When I turned 16 he and his wife wanted to give me something special I could keep for a long time. but at the time I was crazy about swimming and diving so when we drove to shopping center and I saw green rubber flippers and instead of jewellery, dress or a book I got them.  This shows how generous he was, I am sure he thought it was ridiculous from me, but he respected my wish. I guess therefore it would be really nice to receive surprise presents, like you are planning.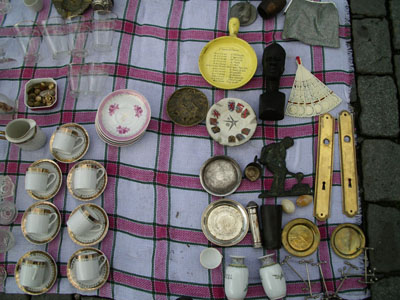 When I am traveling I love visiting flee markets and I try to purchase small gifts from there. (On the picture flee market in Brussels).
Dear Chequita, I was wondering that are these the themes you would like to work further for the Gray area? Or do you have some other things in mind?